Best ways to get from Moskovsky railway station in St. Petersburg to hotel
If you are planning a trip to Russia, the most common is to visit Two Capitals – Moscow and St. Petersburg. The distance between the two cities is more than 700 kilometers. In this article, we will explain how to get from the Moskovsky railway station in St. Petersburg to your hotel.
---
One of the easiest and fastest ways to travel from Moscow to St.Petersburg and vice versa is by train. When traveling from Moscow you are departing from Leningradskiy railway station. Leningradsky railway station in Moscow, as well as Moskovsky railway station in St. Petersburg, is situated in the downtown. That is a great advantage because you don't need to waste a lot of money and time to get to your hotel (for instance, airports in both cities are situated approx 1-1,5 hours' drive from the downtown). There two types of trains – a high-speed train called Sapsan that takes only 4 hours one way and an 8-hour night or day train.
Almost all trains from Moscow arrive at the Moskovsky railway station. That train station is one of the oldest in St. Petersburg and situated at the beginning of Main Avenue. There are three options to get from Moskovsky railway station to your hotel:
---
Option 1: Subway
The train station also has a metro station, called Ploshad Vossyaniya (exit to Moskovskaya station) on the red line. You can enter the subway from the station, going down the stairs that are in the waiting room;

Subway stations are easily recognized because they are marked with the blue M.
Read more Public transport in St. Petersburg: Information on fares, payment, travel cards and more
---
Option 2: Taxi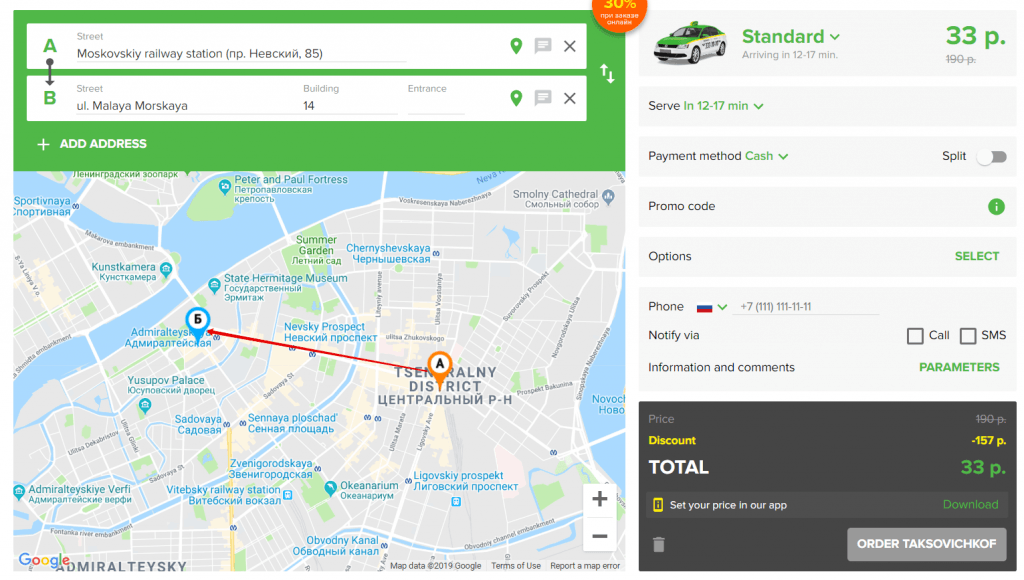 Uber and other apps like Yandex taxi are completely legal and authorized taxi services in St. Petersburg;

Avoid hailing a taxi in St. Petersburg, because you can easily be overcharged by taxi drivers. We recommend booking online on a Taxi Service web page. You can book a cab immediately or in advance. Use the price calculator to find out how much a ride costs before you request it. There are some taxi companies in St. Petersburg with operators in English. For example, http://taxovichkof.com/;

But if you have nothing but to take a cab on the street, ask how much the trip will cost and make sure that the driver perfectly understood where you need to get.
Read more Getting around St. Petersburg by taxi
---
Option 3: Private transfer with Good-tours.com
Our driver will be waiting for you at the platform your train arrives holding a sign with your name on it. The price of the transfer in a comfortable minibus would be 60 euros (1-5 people).